Welcome to Divine Mercy Parish / Parroquia Divina Misericordia
The mission of the new Divine Mercy parish is to promote a vibrant and dynamic community which is truly Catholic, living and worshiping in faith, love and hope. The parish is committed to spread the Gospel to all who enter through our doors and to evangelize to those in our community who do not know the Lord; those who have felt disenfranchised or dissatisfied with the church. We extend our open arms to welcome everyone without regard to color, creed or culture. We offer many opportunities to those who wish to serve. Together we celebrate the healing and sanctifying love of God through the Holy Trinity, the reception of the sacraments, and especially the Holy Eucharist.
Our Priests
Our priests are happy to meet with parishioners.  However, we ask that you call the Rectory office to request an appointment. Due to their busy schedules, please note that sacramental questions are handled by our office personnel.  Persons interested in receiving sacraments are asked to come to the Rectory Office.
---
News & Events Page has a new posting, please stop by and visit us!  10/10/2020
A message from Most Reverend Dennis J. Sullivan, D.D., Bishop of Camden in reference to the Reorganization.  
10/02/2020
---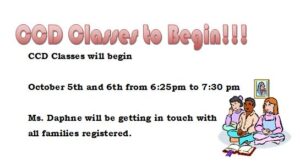 ---
---
Church Opening 06-09-2020

Church Opening-B 06-09-2020

---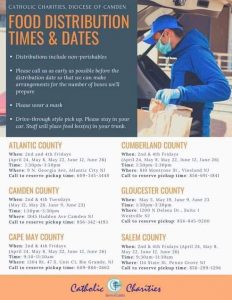 ---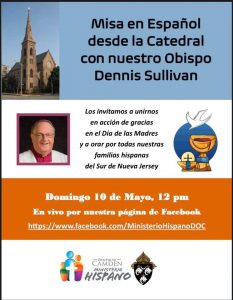 ---

++++++++++++++++++++++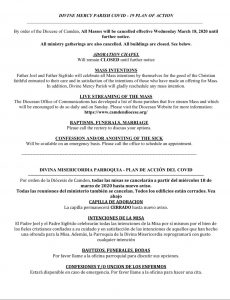 ---
                Support us with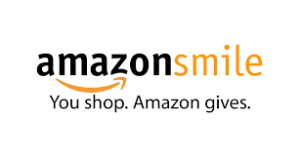 During this time with the Coronavirus pandemic impacting the nation, we know it is difficult staying safe while going out there and purchasing your needs.  Many people are using Amazon to purchase what is needed.
There is a great way to continue to support Divine Mercy Parish while shopping on Amazon!
AmazonSmile allows you to support your favorite charity, Divine Mercy Parish of course, every time you shop, at no cost to you.
Simply go to smile.amazon.com (You will see to the right of our web page a link directly to AmazonSmile), log in with your current Amazon username and password, select Divine Mercy Parish Vineland NJ.  Please note that you can change this at any time.
---
April 27, 2020
LETTER OF HIS HOLINESS POPE FRANCIS
TO THE FAITHFUL FOR THE MONTH OF MAY 2020
CARTA DEL SANTO PADRE FRANCISCO
A TODOS LOS FIELES PARA EL MES DE MAYO DE 2020
---
04/27/2020     Camino a Pentecostés 2: La Ascensión
En este video de la serie Camino a Pentecostés, el Padre Joel Arciga, Párroco de Divina Misericordia en Vineland, reflexiona acerca de la Ascensión.
  Aqui esta el video de Padre Joel reflexiónando a la ascension de nuestro Señor.
---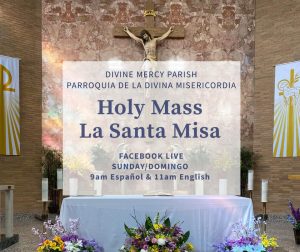 All will be live streaming / Todo se transmitirá en vivo
Facebook: Divine Mercy Parish of Vineland
---
Due to the Coronavirus outbreak, the Parish has had to make a lot of changes to keep everybody safe. We know that through this difficult moment it is important that we stay connected to God in prayer even if we don't go to mass.
Please click on the links provided below and read carefully the information provided for you.
Debido al coronavirus, la parroquia ha tenido que hacer muchos cambios para mantener a todos a salvo. Sabemos que durante este momento difícil es importante que nos mantengamos conectados con Dios en la oración, incluso si no vamos a misa.
Haga clic en los enlaces que se proporcionan a continuación y lea detenidamente la información que se le proporciona.
2020.04.08 – Memo VG to All Priests RE Covid-19 and Holy Week – Triduum Reminder
---
---
March 23, 2020

---
Prerecorded mass by Father Joel for Sunday, March 29, 2020
---
RELIGIOUS EDUCATION (CCD)Declaracion Obispo Sullivan Marzo 16_ 2020 (2)
REGISTRATION
Registration for sacramental catechesis (CCD)
is now open. Forms can be picked up
Tuesday's & Thursday's from 6:00pm to 8:00pm
At the rectory office
Requirements:
Copy of Certificate of Baptism
Copy of the Certificate of First Communion
(For candidates for Confirmation)
REGISTRACIÓN PARA
EDUCACIÓN RELIGIOSA (CCD)
Las registraciones para catequesis sacramental (CCD)
ya comenzó. Las aplicaciones pueden ser recogidas los
martes y jueves de 6:00pm a 8:00pm
en la oficina de la Rectoría.
Requisitos:
Copia del Certificado de Bautismo
Copia del Certificado de Primera Comunión
(Para candidatos a Confirmación)