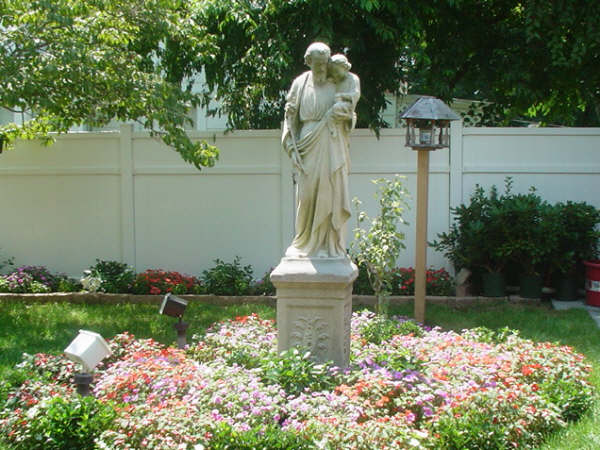 Pope John Paul II Retreat Center located in the heart of Vineland offers this cozy, warm, tranquil sanctuary.  The residence provides a chapel, conference room, and 26 bedrooms, ideal for private retreats, weekend, day retreats, workshops, breakfast, lunch, or dinner meetings, and much more.
Pope John Paul II Retreat Center, formally the Sacred Heart Convent built in 1951, served as a convent for sisters of St. Joseph.  For 48 years, this 26 bedroom house was the home to many nuns who served our community.  Still today, the outside corridor of the Chapel in the Retreat Center, displays pictures of the sisters sharing the wonderful life they had in this home.
In 1999 presiding Bishop James T. McHugh of the Camden Diocese announced that Monsignor Muro and his community of the Immaculate Heart of Mary would take over the convent. Monsignor Muro's prayers had been answered; he envisioned the building to serve as a retreat house for the parish and the diocese community at large. The convent underwent minor reconstruction, was rededicated, and named the Pope John Paul II Retreat Center, sharing in the Pope's vision of unity, "One people united in the Spirit of God."
The Pope John Paul II Retreat Center offers:

~Beautiful, serene chapel, ideal for prayer and reflection

~Spacious Conference Room

~26 double occupancy sleeping rooms equipped with air conditioning
~Dedicated Bilingual Staff
~Spacious backyard with a soothing water fountain, a serene setting – ideal for outdoor prayer service
~Comfortable Dining Room accommodates groups of up to 60
~Meals, snacks, beverages provided with all reservations
~Private accommodations reserved exclusively to one group at a time
~Centrally located in South Jersey just off Route 55
OUR MISSION is to provide an oasis of peace where the burdened can come to rest and enrich their spirit…
"Come to me, all you who labor and are burdened and I will give you rest." – Matthew 11:28
The Pope John Paul II Retreat Center located in the heart of Vineland offers this sanctuary.  This cozy, lovely, tranquil, center provides a serene chapel, spacious conference room, and 27 double occupancy bedrooms.
Enjoy our warm hospitality while participating in your own private retreats, workshops, general meetings, and more.